'Commercial Sales' is a term used in business to describe the process of selling products or services to other businesses.
This type of sale is often more complex than the average consumer or retail sale, as the deal sizes are usually much larger, and the stakes are higher. These deals are also more complex, have many different moving parts, and involve different parts of a company.
In this article, we will review what is Commercial Sales and how it contrasts with Retail Sales. We will also look at concrete examples of Commercial Sales from the business world.
We will review the job description of someone in a commercial sales role as well as the skills and qualities that are necessary for success so that you can get an idea of what to expect if this is the career path for you.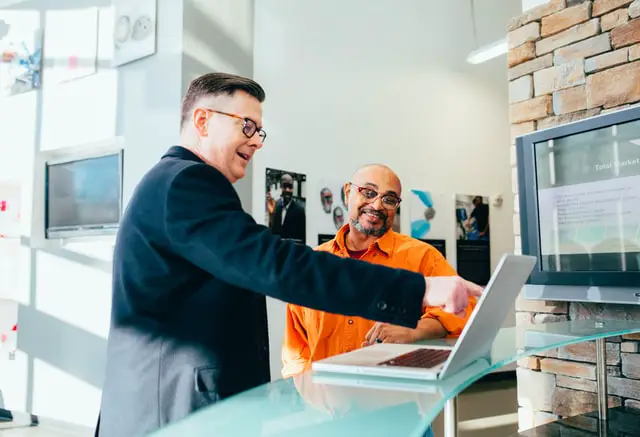 What do Commercial Sales mean?
Commercial Sales refers to the range of processes involved in selling a product or service to a business.
This includes activities such as market research, prospecting, lead generation, lead qualification, pricing negotiations, and contract signing.
Commercial Sales also involves managing customer accounts, developing relationships with potential customers, managing sales pipelines, maintaining business partnerships, and providing support for marketing activities.
Commercial Sales Vs Retail Sales
Commercial Sales is the process of selling products or services to businesses, as opposed to selling to individual consumers. In contrast, Retail Sales or Consumer Sales is the process of selling products or services to individuals for their personal use.
One key difference between Commercial Sales and Retail Sales is that in Commercial Sales, we sell to another business that has employees and a management team. As such, the sales processes are more complex than in Retail Sales, where we sell to a consumer who is the final decision-maker. This is why Commercial Sales almost always follow a formal, professional Purchase Management process.
Another difference between Commercial and Retail Sales is that in Commercial Sales, the customer (the business) has a need for your product or service. Most businesses will not begin a procurement or purchase process unless a need is clearly identified, and a budget is allocated. In contrast, in Retail Sales, the consumer may buy a product on a whim regardless of whether the product fulfills any specific need.
Yet another important difference is the deal size. Retail sales are generally smaller ranging from under $100 to a few thousand dollars. Commercial Sales habitually range from tens of thousands of dollars to millions of dollars. This makes Commercial Sales a more complex and time-consuming process. And it is riskier for both parties compared to in Retail Sales.
Examples of Commercial Sales
1. Providing ODM or OEM Services
ODM stands for Original Design Manufacturer. OEM stands for Original Equipment Manufacturer. Both ODMs and OEMs provide manufacturing outsourcing services to other businesses.
A company that does not wish to have its product manufactured in-house will typically look for an ODM or OEM to manufacture it.
An ODM or OEM selling its manufacturing capability to another company is an example of a Commercial Sale.
2. Selling Office Supplies to a business
All companies need office supplies. This includes items such as pens, paper, and printer ink. When a business needs to restock on these items, they will often go to a company that specializes in selling office supplies. This is an example of Commercial Sales.
3. Providing Advertising Services to a business
A company that wants to market its products and services may turn to a marketing and communication agency or an advertising agency for help. The agency will develop an advertising plan to market the company and its products. This is an example of Commercial Sales, in which the advertising agency sells its services to its customers.
Commercial Sales Job Description
Commercial Sales jobs can be found in a wide range of industries, including telecommunications, technology, financial services, manufacturing, and retail. However, most Commercial Sales jobs have a similar set of responsibilities and require certain similar skills.
 Let's look at what these are. 
Responsibilities of a Commercial Salesperson
The job of a Commercial Salesperson is to identify and qualify potential customers, build relationships with those customers, understand their needs, and propose a solution that meets those needs. The goal is to win the customer's business by proposing the best possible solution at the best possible price.
The job description of a Commercial Salesperson varies depending on the industry but usually includes responsibilities such as:
Identifying potential customers and understanding their needs
Developing proposals that meet the customer's needs
Negotiating prices and terms of sale
Closing sales and achieving targets
A Commercial Salesperson will usually have to manage customer accounts throughout the sales cycle and devise strategies to expand them to generate new revenue streams from existing accounts.
A Commercial Salesperson can also be responsible for new business generation including making cold calls, telemarketing, visiting customers, entertaining them, and converting new customers into long-term accounts.
In special cases, a Commercial Salesperson can also become a lead generation specialist and focus exclusively on new lead generation. 
Skills need to become a Commercial Salesperson
In order to be successful in Commercial Sales, a Commercial Salesperson needs to have strong interpersonal skills and be able to build relationships with clients.
Commercial Salespeople are also often responsible for negotiating prices and closing deals, so they need to be able to effectively communicate with clients and have a strong understanding of what the client wants or needs.
Often Commercial Salespeople will need to handle and resolve customer complaints and inquiries. So, they need to be capable of empathizing with their customer's situation and finding resolutions that are acceptable to the customer as well as to their company.
Commercial Salespeople also need to network within the industry and build relationships with different stakeholders. They, therefore, need the social skills necessary to connect with a diverse group of people.
They also need to be knowledgeable about the products or services they are selling and the market trends within their industry. They will need to understand the technology changes and disruptions in their industry and how these will impact their customers and their company.
Finally, Commercial Salespeople are expected to be able to work independently and be self-motivated in order to succeed in this field.
Summary
Commercial Sales refers to the set of processes required to sell products or services to businesses.

These processes include market research, lead generation, pricing & contract negotiation, pipeline management, development of relationships within the industry, and handling the end-to-end customer relationship.

Commercial Sales are more complex and involve larger amounts compared to Retail Sales – which are sales to individual consumers of products they acquire for their personal use. As a result, Commercial Sales usually follow a formal procurement or purchase management process.

Commercial Salespeople are responsible for identifying potential new customers and designing strategies to win them. They are also responsible for developing proposals, negotiating terms and prices and closing deals to achieve targets.

Commercial Salespeople need to have strong interpersonal skills to be able to handle all types of discussions with customers. They need to have their ear to the ground to know what's happening in their industry, what the trends and what technological innovations to expect. This can help them develop strategies to acquire new customers and expand their business with existing ones.